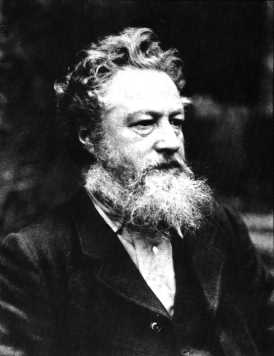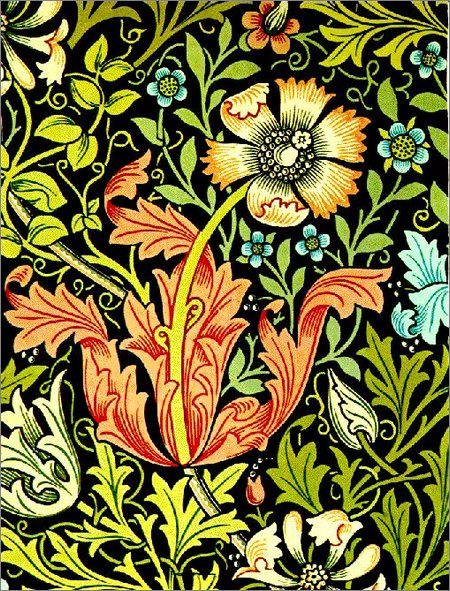 Printed and woven textiles
Morris's first repeating pattern for wallpaper is dated 1862, but was not manufactured until 1864. All his wallpaper designs were manufactured for him by Jeffrey & Co, a commercial wallpaper maker. In 1868 he designed his first pattern specifically for fabric printing. As in so many other areas that interested him, Morris chose to work with the ancient technique of hand woodblock printing in preference to the roller printing which had almost completely replaced it for commercial uses.
Morris took up the practical art of dyeing as a necessary adjunct of his manufacturing business. He spent much of his time at Staffordshire dye works mastering the processes of that art and making experiments in the revival of old or discovery of new methods. One result of these experiments was to reinstate indigo dyeing as a practical industry and generally to renew the use of those vegetable dyes, like madder, which had been driven almost out of use by the anilines. Dyeing of wools, silks, and cottons was the necessary preliminary to what he had much at heart, the production of woven and printed fabrics of the highest excellence; and the period of incessant work at the dye-vat (1875–76) was followed by a period during which he was absorbed in the production of textiles (1877–78), and more especially in the revival of carpet-weaving as a fine art.[1][46] However, his first carpet designs of 1875, were made for him industrially by commercial firms using machinery.
Morris's patterns for woven textiles, some of which were also machine made under ordinary commercial conditions, included intricate double-woven furnishing fabrics in which two sets of warps and wefts are interlinked to create complex gradations of colour and texture.[47] His textile designs are still popular today, sometimes recoloured for modern sensibilities, but also in the original colourways.